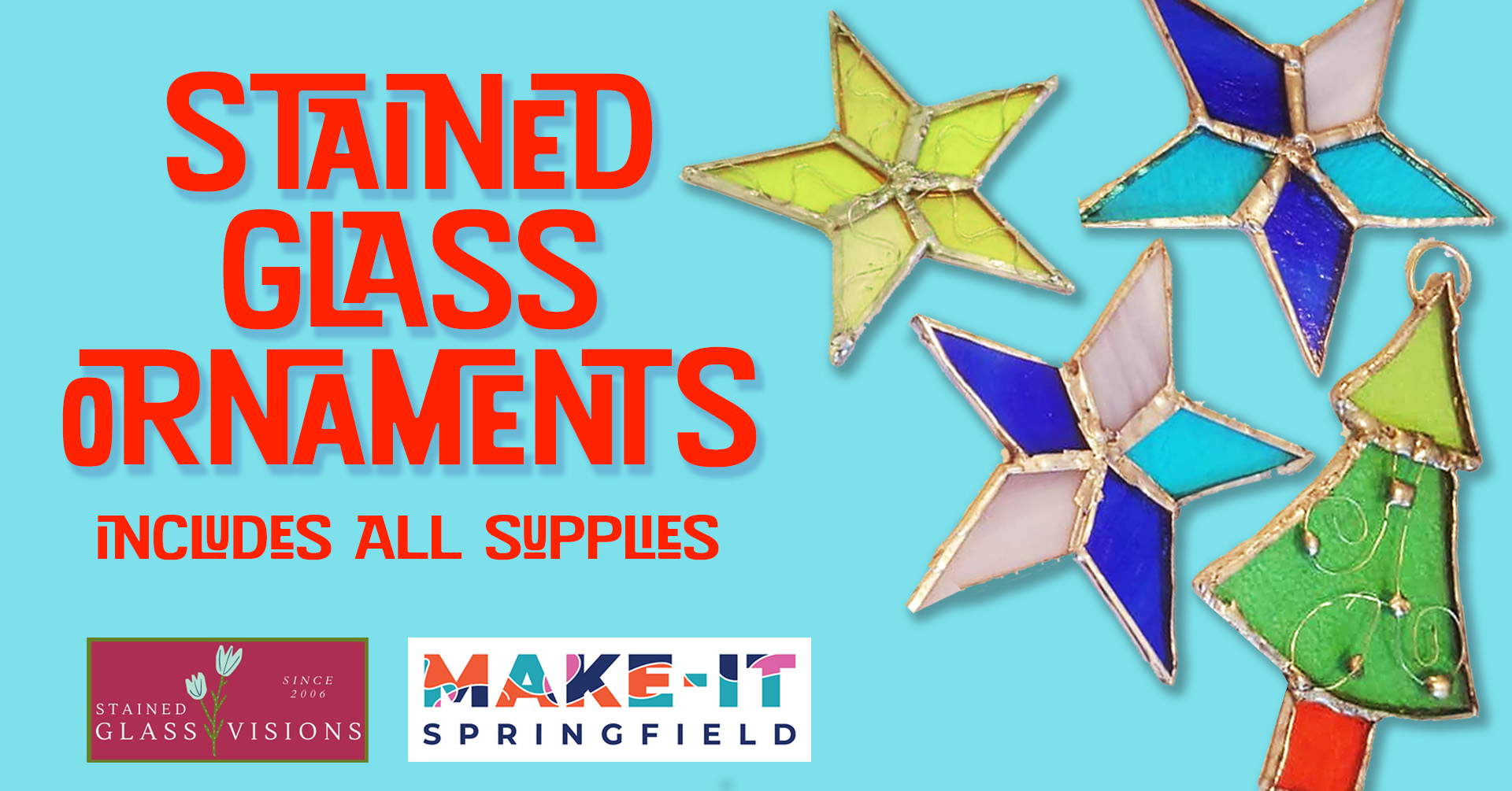 Holiday Stained Glass Ornaments
Glass Visions presents HOLIDAY STAINED GLASS ORNAMENTS! This class is for beginner/intermediates where you'll get an introduction to the copper-foil stained glass construction process and build a small holiday-themed SUNCATCHER for your window or tree. You'll have some practice time to get basic exposure to glass cutting, grinding, foiling, soldering and finishing techniques. You'll pick one of our 4+ holiday-themed SUNCATCHER patterns for your class project. For pattern & color options think holiday themed images and snow covered landscapes. We'll be available to help as needed. At the end you'll get to take-home your class project to enjoy! Instruction, equipment use and ALL needed glass & supplies are included in the cost.
This class also gets you ready to take Glass Visions' full BEGINNING STAINED GLASS class ($10 discount available) if you want to continue learning the stained glass art form. Come join us for a great HOLIDAY themed stained glass learning experience!
210-min TOTAL – 30-min PowerPoint Presentation + 180-min HANDS-ON
$47, includes all supplies.
If, after registering, you learn you can not attend please let the instructor know so we can open your spot to others on the waiting list. Refund requests must be made at least 24 hrs ahead of the start of the class.
—-
About the instructor: Chris Lyons of Glass Visions Stained Glass Studio, in Springfield, MA, is a maker who works in multiple mediums. View all his 9Make-It Springfield workshops here.
Glass Visions is your source for Stained Glass! They sell low-cost glass and supplies for all your traditional copper-foil stained glass projects. They also offer a full set of stained glass classes from Intro to Advanced lamp making and they provide commission and repair services. Visit www.glassvisions.biz for more information about our studio & classes.