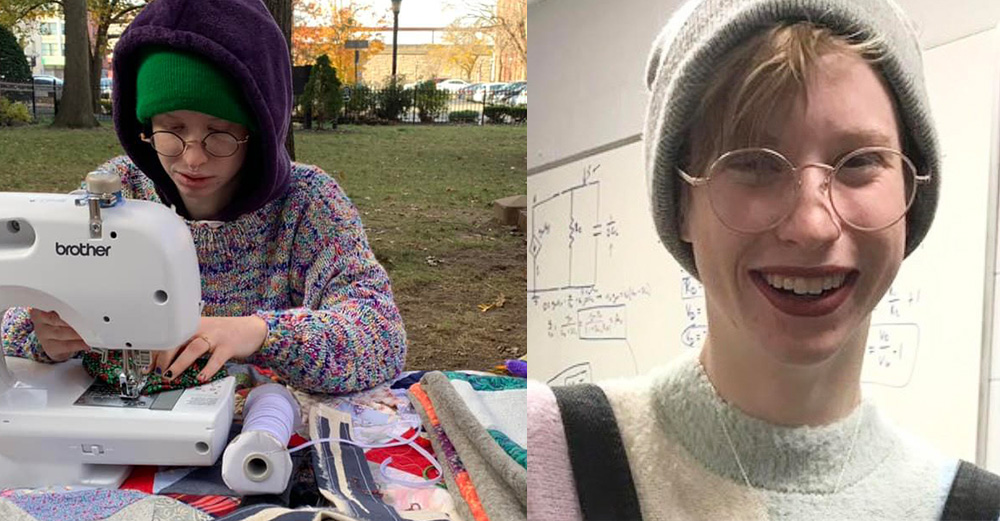 Rusty Polsgrove is a making enthusiast with all-around, hands-on skill in a number of areas. They enjoy fiber arts, sculpture and learning new things and can often be found quilting and sewing during open hours. Rusty shared their experience with us:
What would you tell people about Make-It Springfield? Make It is a safe space to be absolutely clueless! Creativity is all about growth, when you challenge yourself to do things you know nothing about you are at your most creative because you are attempting a lot of growth.
How do you define success? I think that success is actually just the accumulation of many failures. I have only been sewing since 2021 and I owe all of my skill and knowledge to the hundreds of quilts I have attempted in this time. Out of around 350+ quilts that I have dreamt up and attempted, I think only 35 resulted in actual finished products. Without the miserable failures, disappointments, and unfinished attempts I would not know what works, and I would not have the courage to try things I haven't done before.
What are some of your creative accomplishments? Prior to Covid I was a paid stand-up comedian! I used to perform all over western mass, but more specifically in the college towns around Northampton. I love speaking to my queer experience in my stand up because the awkward and strange parts of being transgender are not exclusively a trans experience, and it is incredible to have folks connect to those feelings.
What role does creativity play in your life? Creativity is my lifeline. To me it is meditative. When things get to be too much and I feel overwhelmed or over exerted, working on my craft brings me back to reality. I have OCD and often struggle to find ways to channel my compulsions into something positive. Quilting has been the best therapy because it is an activity where repetition is necessary and productive rather than a distraction.
Tell us more about yourself – hobbies? family? pets? travel? I spend my time community organizing and enjoying the outdoors. I love doing community work in Springfield because everyone is engaged and cares deeply about their community. I connect to lots of folks directly impacted by environmental injustice at Make it and they inform my work and guide me in what matters to residents of Springfield.
I have two cats and a lovely Fiancé! My fiancé, Sidharth is from Bangalore India, he's a software developer with a knack for pottery and throwing on the wheel. My cats are named Walter and Leroy, both adopted from the Springfield pound, my spoiled boys enjoy the best cat life possible. There is always plenty of soft fabrics to nap on, thread spools to chase, a cat playground constructed with shelves and homemade cat toys for them to play on, and lots and lots of snacks and cuddles.